Projects in CRM FREE
Projects can be used for any number of things in CRM FREE. You can use projects as sales record, customer service requests, for things in your office such as hiring a new employee and so much more. Projects have a title and a description so you can search and find your projects and the description to provide more details than the title. There is a status, type and value field for each project to track where in the process it was and to separate the sales from support requests. Each project has a Project # automatically assigned to it that can be used as a reference number to the project and given as a confirmation number or ticket number etc.

Projects have the same notes, calendar items, important date and document storage sections as contacts do. All changes to the project are logged in the notes so you know what was done and by who. You can assign users to view the project or a group of users.

Projects can be linked to a contact(s) record or a group(s). For example each purchase a contact makes could be entered as a project with the order and shipping dates in the dates section of the project. All notes related to fulfilling the order, calendar items to pack and ship as well as the value of the sale and the confirmation number provided to the customer. Using it for projects in your office adds value. The example above of using it for hiring new employees keep everything in one easy to find place. Each person sending a resume can be a contact in the system and linked to a project for hiring a new employee. Keep their resume and notes on each person in their contact record and notes and calendar items in the project as an overview of the entire process.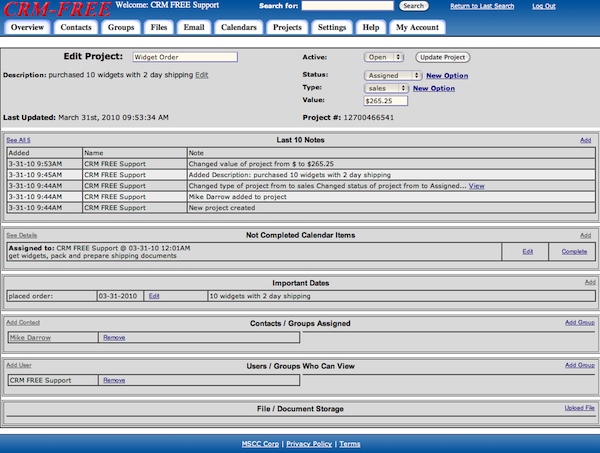 Features
Contact Management
Contacts
Searching
Grouping
Important Dates
Custom Fields
Import & Export
Capture from Web Forms
Calendar
Adding Items
Calendar & Lists
Alerts
Email
Templates
Creating New Contacts
Adding Notes
Adding Calendar Items
Linking to Contacts
Projects
Using Projects
Linking to Contacts
Document Storage
Administration
User Access
Billing
Signup for FREE Now