Adding Items to Your Calendar

In CRM FREE you can add items to your calendar for a contact, project or a personal item. These can be to-do items, follow ups with a contact, meetings or appointments, calls, days out of the office or anything else you need to remember and track. You can enter just a date for tasks or to-do items or enter a specific time for meetings, calls etc.

With the paid version of CRM-FREE you can also set alerts for each calendar item. You can be reminded by email, text message or a pop up alert in the database while you are working. Use any or all of the alerts to make sure you don't miss that important call or meeting. Days can be hectic but these simple and easy to set reminders make sure things don't slip through the cracks on you.

Each calendar item that hasn't been completed for each contact or project is visible on their record and you can also click to see all completed and non completed items as well.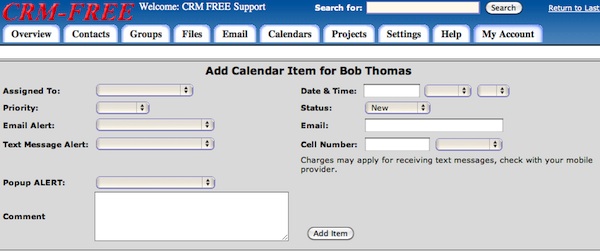 Features
Contact Management
Contacts
Searching
Grouping
Important Dates
Custom Fields
Import & Export
Capture from Web Forms
Calendar
Adding Items
Calendar & Lists
Alerts
Email
Templates
Creating New Contacts
Adding Notes
Adding Calendar Items
Linking to Contacts
Projects
Using Projects
Linking to Contacts
Document Storage
Administration
User Access
Billing
Signup for FREE Now