Contact Management
CRM FREE allows you to easily add contacts and view their data. Control who has access to the record, track important dates, upload files, enter notes and add items on your calendar associated to this contact. Each contact can be assigned to groups for easily linking and searching and can be linked to any projects they are part of.

The most important part of any system is knowing what was said and done, by who, when and what needs to be done next. CRM FREE makes this easy with the notes and calendar section on the contact record. See a complete list of all the notes entered, by who and when. Check the calendar items to see what needs to be done and who it is assigned to and check what has been completed already.

You can enter a status for each contact to keep track of where they are in the sales process, the source of the lead (where or how this person was referred to you). There is also a type field to categorize contacts. Enter all addresses for a contact or company, with a description field and access to google maps. Also enter all phone numbers and email addresses.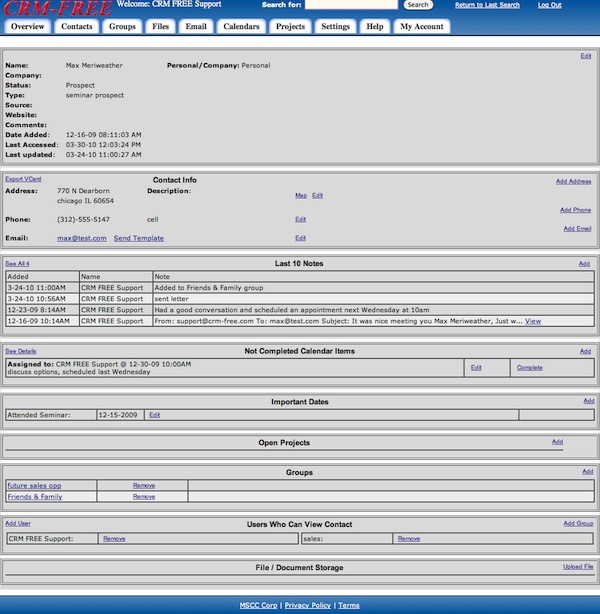 Features
Contact Management
Contacts
Searching
Grouping
Important Dates
Custom Fields
Import & Export
Capture from Web Forms
Calendar
Adding Items
Calendar & Lists
Alerts
Email
Templates
Creating New Contacts
Adding Notes
Adding Calendar Items
Linking to Contacts
Projects
Using Projects
Linking to Contacts
Document Storage
Administration
User Access
Billing
Signup for FREE Now