Email Integration

NEW: With CRM-FREE you can send emails to a contact from their record from within CRM-FREE. All versions have access to our SMTP (outgoing) servers to send email, number of emails allowed per day depends your account.

With the paid versions of CRM FREE you get an "Email Dropbox". You can send emails to create new contacts, add a note to an existing contact or project, add a calendar item to a contact, project or just for yourself, forward an email you received from a contact into their record or bcc an email you send to a contact into their record when you email them.

This saves time in copying and pasting data and simplifies keeping all your data in one place. You can also add templates for emails you routinely send and when you select that template from a contacts page it will open your email program with the to address, subject and body entered as you selected. You can also merge certain data from the contact record such as their name into the emails... and the email will have your CRM-FREE email address as the bcc address to keep a record in that person's file.

Below you see an email that was sent and how it was stored in the database.
See more details on sending emails to CRM-FREE.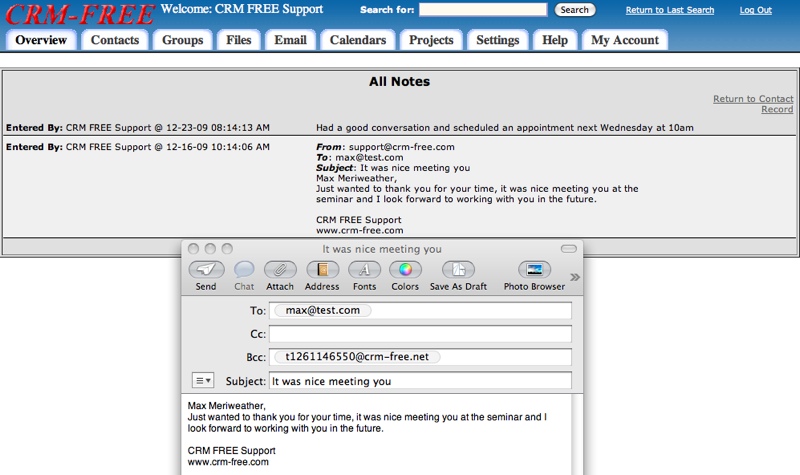 Features
Contact Management
Contacts
Searching
Grouping
Important Dates
Custom Fields
Import & Export
Capture from Web Forms
Calendar
Adding Items
Calendar & Lists
Alerts
Email
Templates
Creating New Contacts
Adding Notes
Adding Calendar Items
Linking to Contacts
Projects
Using Projects
Linking to Contacts
Document Storage
Administration
User Access
Billing
Signup for FREE Now