Contact Management
CRM FREE allows you to easily add contacts and view their data. Control who has access to the record, track important dates, upload files, enter notes and items on your calendar associated to this record. Each contact can be assigned to groups for easily linking and searching and can be linked to any projects they are part of.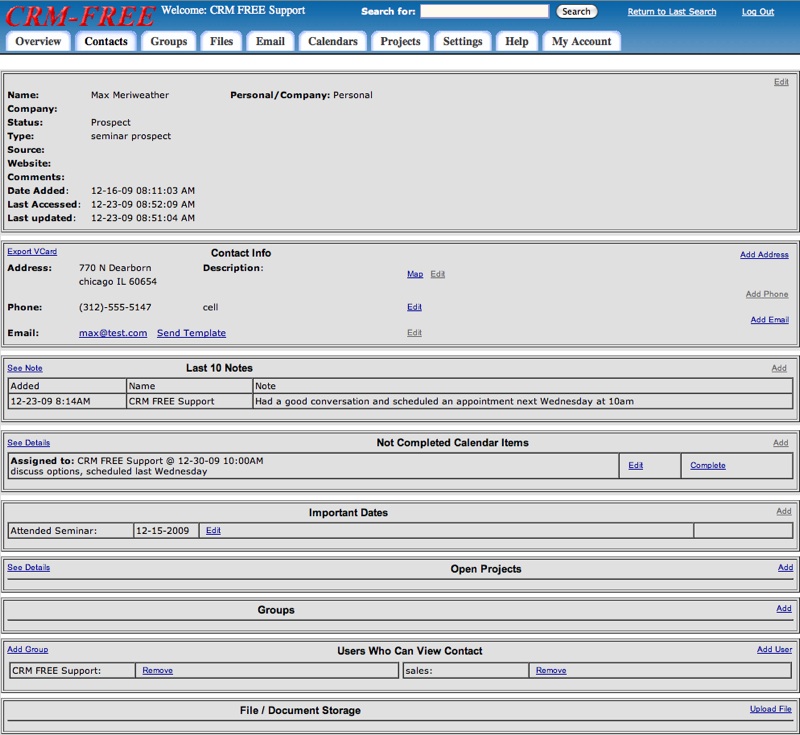 See who last spoke to each contact in the database and when. Enter details of each call or meeting and you have a complete log of everything for that person. Set a follow up to call them next week (get reminders in the paid versions), track sales dates in the important date section. What if an employee leaves your office or is out for the week, what about all the contacts and clients they have spoken with. With all the details in CRM-FREE anyone will be able to pick up right where they left off without missing a beat.

Keep all contacts, friends, family, vendors, employees, co-workers, contractors, maintenance men, leads, clients, teachers, students, restaurants and other locations names, phone numbers, email and addresses all together in one easy to add and search online database. Call it a contact management solution, customer relationship manager, customer support solution, sales tracking, human resources solution, web based address book, online calendar, CMS, CRM or just one free database that does it all, CRM - FREE will help you get and stay organized. Enter everyone, all addresses, phone numbers, email addresses, birthdays and other important dates, then add notes to their record, set event on the calendar for them. Each contact has a status, type and source option so you can help categorize them and easily search contacts in the database.